Sephiroth's Biography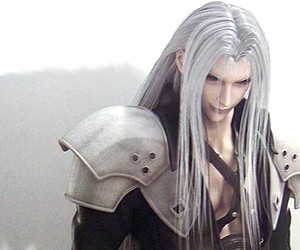 Around 30 or so years before the events of FF7, a child called Sephiroth was born to two
Shin-Ra
research scientists,
Lucrecia
and
Hojo
. Before he was born, twisted experiments injected the fetus of this child with the cells of a
horrible alien
. This experiment would
loan
him great strength, creating a child of amazing potential and power.
This child became a SOLDIER, fighting for Shin-Ra, and eventually helped them win a large war against Wutai. In Nibelheim, he learns of his past in the basement of a research mansion. He goes mad with the knowledge, and sets the city on fire and kills nearly everyone in the Nibelheim (Cloud's hometown).
He eventually attempts to summon a Meteor to injure the planet, and plans to absorb the planet's energy as the planet attempts to heal itself. He is, sadly, foiled by
Cloud
, and mysteriously disappears, probably into the lifestream.
---




FINAL FANTASY and all related elements including SEPHIROTH are trademark SQUARE ENIX.